Couture and textile products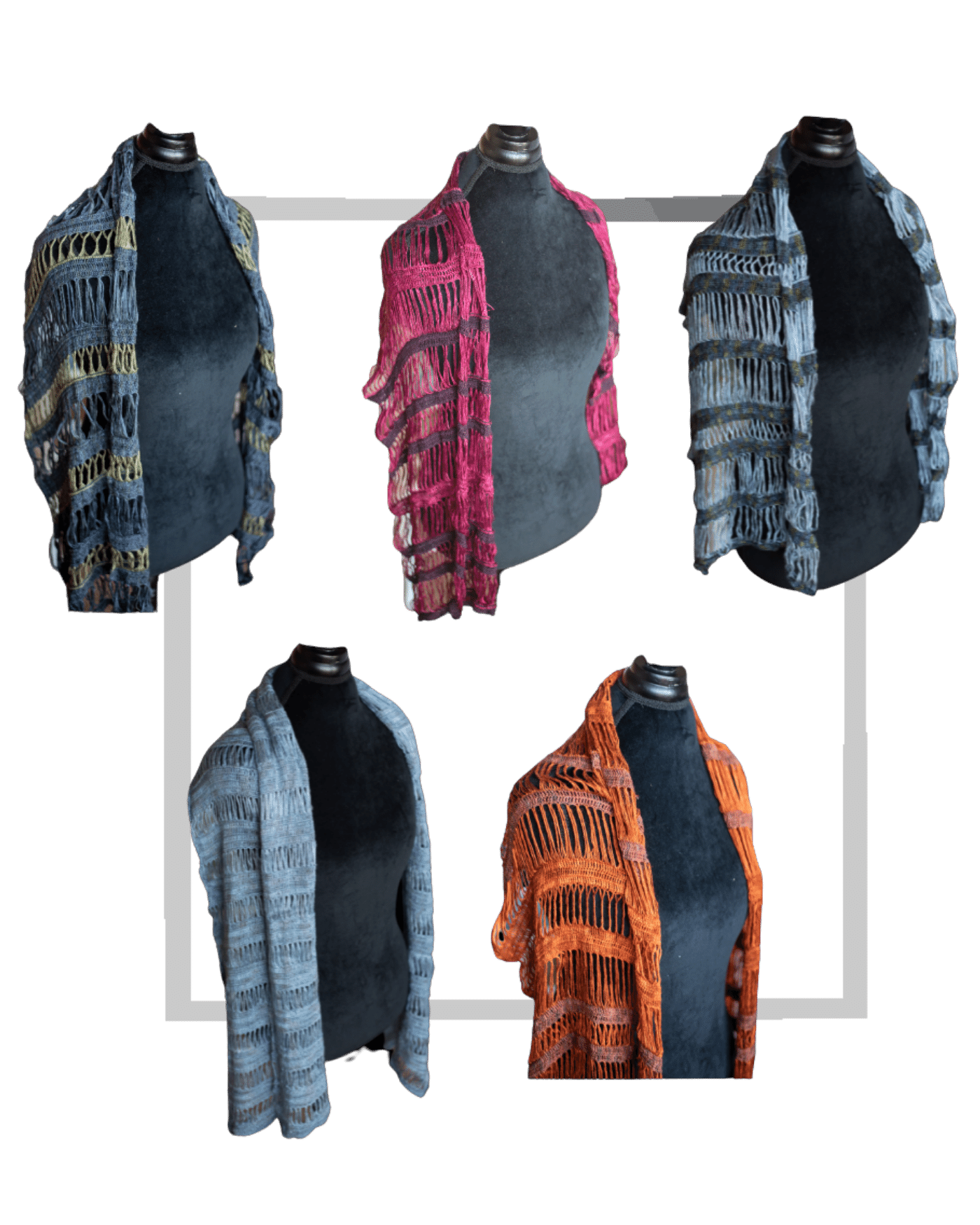 from the sewing room
In this room you'll find Couture and textile type products. If it involves fabric, yarn, or thread it's here! Crafted with the utmost care and attention to detail, each piece is designed to be beautiful and long-lasting. These items are made from the finest yarns and fabrics.
The silk wraps are handmade with luxury, lace weight silk yarns. Lace weight is like a very heavy thread. Broom stick lace wraps made of crochet requires an additional apparatus of either an adjustable loom, or a rod or broomstick, for which the lace was named. A wrap of 20" wide by 60" long takes approximately 130 grams of yarn and over 50 hours to create, one stitch at a time, using a single hook.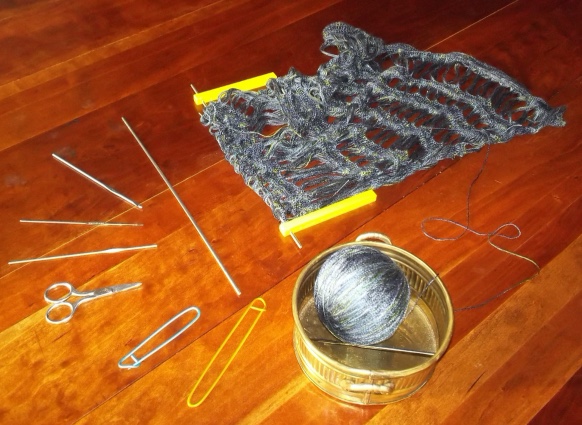 Due to the time investment to create a wrap, high quality materials are sourced.
Prices vary, based on cost and availability of materials.
Certain hard to find colors cost more, because of how much time it takes me to acquire them.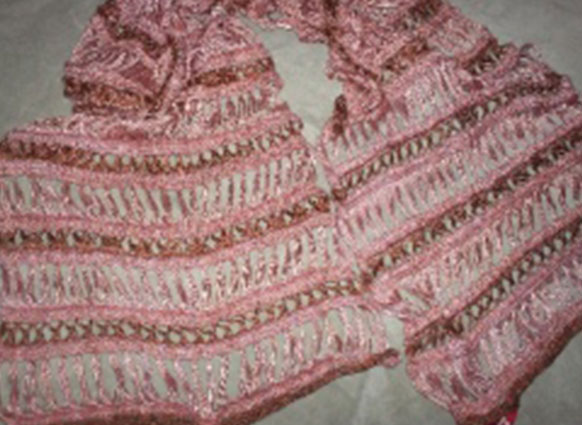 The smaller loops take an extra hook to work, and are far more time consuming, yet the effect is spectacular. 
In this piece, the brown rows alternate between twisted loops and crossed loops. 
Look for directions on how to create these yourself, in the parlor.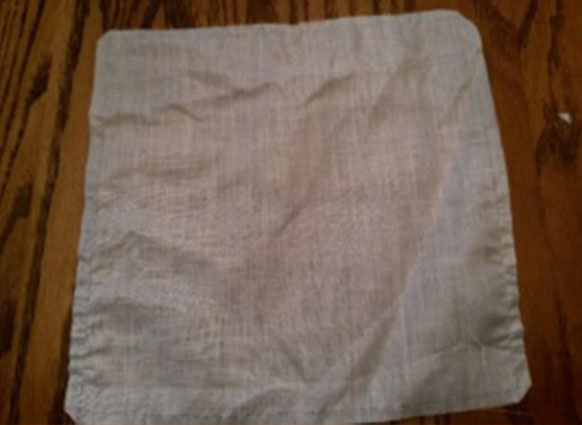 These handkerchiefs were a specialty in my younger days.
Cutting handkerchief linen into square handkerchief "blanks" to required making a short clip in the fabric, to pull a single thread.
Linen is a very straight weave, and once a thread is pulled a very straight cut is made following the vacancy. Additional thread pulls are made, for hemming the for edges with lace crochet. Approximately 1/4 inch of fabric is rolled to forma bead, and then crocheted in place along the four edges of the handkerchief.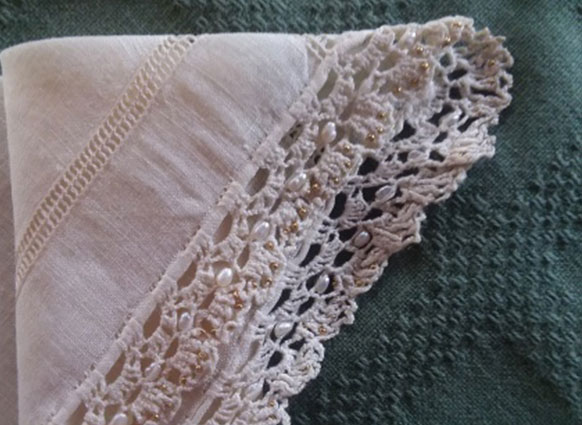 This is my wedding handkerchief, made in the late 1990s. The lace incorporates very small freshwater pearls and antique 22K gold plate size 22 seed beads on 120/2 linen lacemaking thread, edging an antique linen handkerchief with cutwork lace work.
This piece took over 60 hours to create, and I poured my heart into it. Notice the holes where the lace attaches to the cloth.
Below you'll find a variety of items from the sewing room. Please use the form at the bottom of the page to start an order. 
Silk couture wraps made from Broomstick lace. Available in single and multi-color combinations. Silk couture makes for a lovely summer wrap that doubles as a luxuriant cozy winter neck scarf. As the wait time is long for a custom-made broomstick lace wrap of couture, classes to master this skill are coming to New Kent Parks and Recreation (New Kent County, VA) in 2024. Custom yarn kits are available in limited quantities and require a non-refundable deposit. Kit prices vary depending upon the color selection. Some silk and cashmere lace weight yarn is available today. Contact me for more information!
Custom Couture is wearable art, and requires discussion if one seeks that ultimate add to their wardrobe, or gift for someone special. Price is driven by the cost of materials and how long the project takes. Two prime patterns are Scappoose Women and The Crimson T-Square. The award-winning piece shown below is the Scappoose Women Pattern. The Industry rule of thumb is the finish piece price should be 3 – 4 times the cost of the material, depending on the time to produce.
Currently available couture: there are 5 artisanal broomstick lace crochet wraps available in silk and cashmere, or 100% silk, for sale. Please complete a form for more information on colors, fiber content, price, etc. Exquisite gift wrapping is available for a minimum fee.
Hand Laced Linen Handkerchiefs
Heirloom beaded hand laced linen handkerchiefs
The last time I bought Handkerchief linen, the fabric was over $80.00 a yard, and would yield between 8 – 12 squares. The fabric is cut to size pulling a single thread as a guide, and then threads are pulled to guide the crochet straight along the edge of the fabric where the edge is rolled under and secured with crochet, not hemming.  It takes about 9 hours to cut a yard of linen into 6-8 blanks, depending upon the finished size of the handkerchief.
The thread and beads are selected to make the beaded lace.  Thread thickness governs the size of the beads.  Microbeads (A.K.A. "Dust with holes in it") require a 100/2 or a 120/2 fine thread.  The threads are also linen, and equally hard to come by.  Then stringing the beads onto the thread is next, and takes a very fine needle, to avoid breaking the beads.  This is tedious task of love.  The beads must be pushed back on the thread several yards as most patterns take only one bead for every four inches of thread, and some rows of lace do not have beads-requiring those beads to be pushed back many yards further.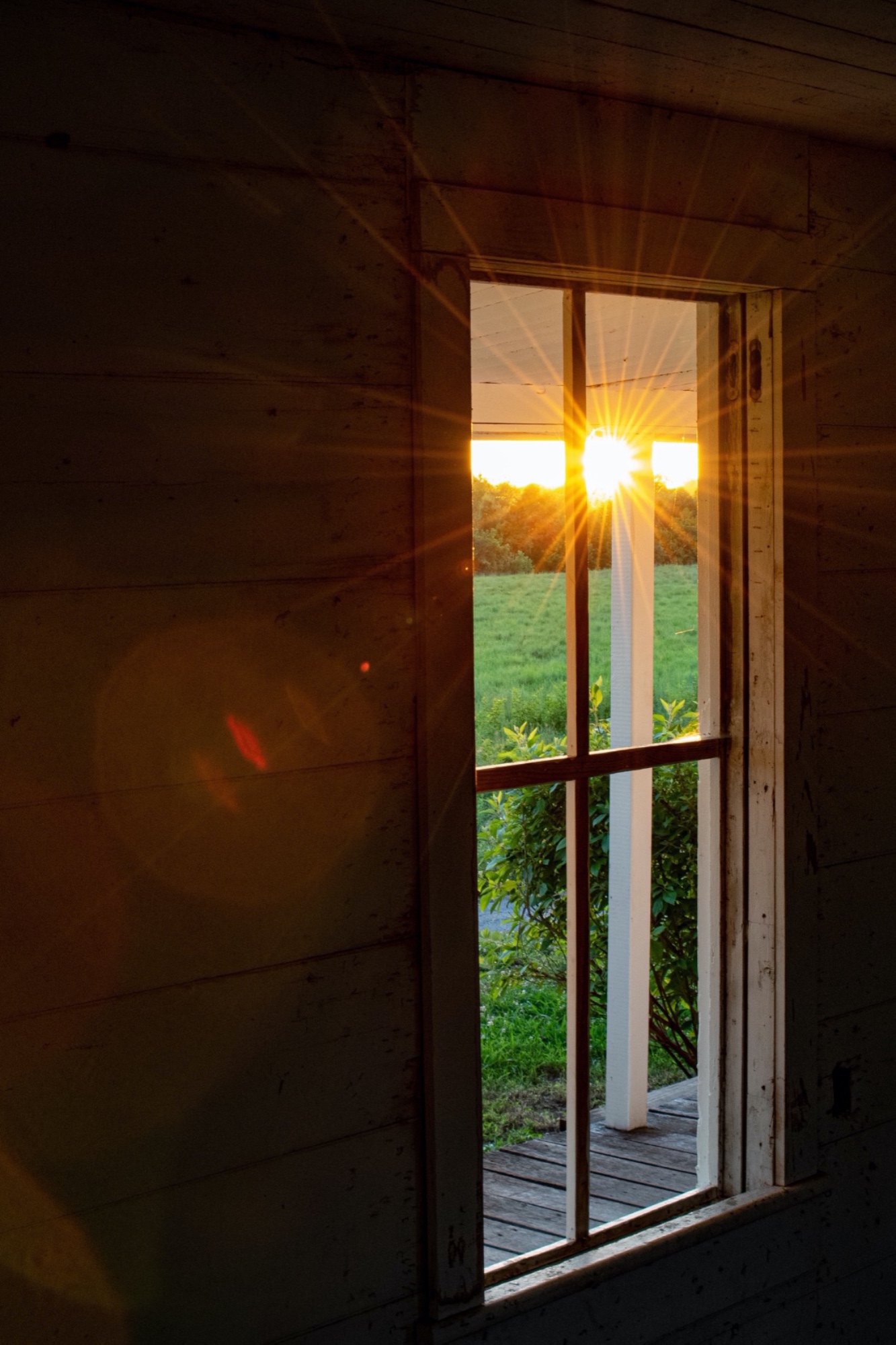 See something you'd like to know more about or purchase?
Reach out via the form below! I will reach out to discuss delivery dates and pickup options, and will send an invoice for payment. If you have any questions, please feel free to reach out.
See something you'd like to purchase?
Reach out via the form below! I will reach out to discuss delivery dates and pickup options, and will send an invoice for payment. If you have any questions, please feel free to reach out.